"Joint International Symposium: To the New Stage of Collaboration"
環日本海域環境研究センター主催 国際ジョイントシンポジウム
「拠点形成の新たなステージへ」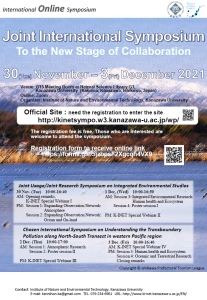 →Chick here to download the posters
The Joint Symposium consisted of Joint Usage/Joint Research Symposium on Integrated Environmental Studies in the first two says and Chozen International Symposium on Understanding the Transboundary Pollution along North-South Transect in western Pacific region in the latter two days. We had one webinar (lecture) and several general sessions each day.
In total, 329 participants from ten countries (USA, Thai, Indonesia, Korea, China, Taiwan, Russia, Pakistan, France and Japan) contributed the symposium. Special website was prepared for the poster session, and best student poster prize is awarded to Umi Kawago and Takuma Kitajima and Pengchu Bai from Kanazawa University.

The symposium was online meetings, thanks to participants rich experience under long activity restrictions caused by COVID19. Next challenge should be enhancing the offsite discussion which was held during, e.g., breaks, parties, etc., in previous years. We are grateful to all the contributors of this symposium.
Day 1 : Opening remarks
Day 1 : Webinar
Day 1 : Photo session
Day 1 : Session
Day 2 : Webinar
Day 2 : Photo session
Day 2 : Session
 
 
Day 3 : Opening remarks
Day 3 : Photo session
Day 3 : Webinar
Day 3 : Session
Day 4 : Photo session
Day 4 : Webinar
Day 4 : Session
 
 

Poster Award :
Takuma Kitajima

Poster Award :
Pengchu Bai
Poster Award :
Umi Kawagou
 
 







Date: 30 November – 3 December, 2021.
Venue: G15 Meeting Room at Natural Science Library G1, Kanazawa University  (Kakuma, Kanazawa, Ishikawa, Japan)
Online: Zoom
Organizer: Institute of Nature and Environmental Technology, Kanazawa University
*The registration fee is free.
*Those who are interested are welcome to attend the symposium.

【Registration form】
https://forms.gle/5jzbpsF2Xgcqh4VX9
【Official Website】
http://kinetsympo.w3.kanazawa-u.ac.jp/wp/
*11/16 9:00 (JST)  login is active

*Program: Program (final)
*Manual For Presenters(11.15 update)
*Manual(Breakout room)(11.15 update)