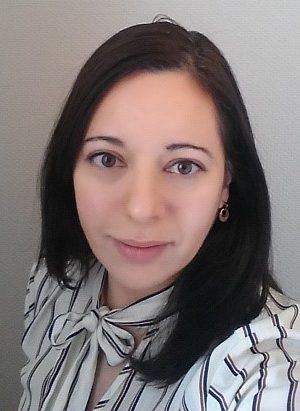 NICOSIA Alessia(ニコシア アレッシア)
環日本海域環境研究センター・大気環境領域 博士研究員
個人業績

【2019年6月4日更新】
専門分野
Cloud Physics and Aerosol Physics
研究内容
My researches are focused on the measurement of 'climate-relevant aerosol properties' (such as particle size distribution, cloud condensation nuclei, ice nuclei particles, cloud nuclei concentration) through 'long  term monitoring of atmospheric aerosols'. At present, I am involved in the analysis and regular maintenance of the NOTO Ground-based Research Observatory (NOTOGRO).
My academic background is Experimental Physics, and I specialise in two fields: Aerosol Science (three years of experience) and Cloud Physics (three years of experience). During my PhD I have focused on 'aerosol-cloud interactions', and particularly, in a mechanism called 'heterogeneous ice nucleation'. Basically, this means studying the formation of ice crystal embryos in the presence of Ice Nuclei Particles (INP) at conditions representative of cold and mixed phase clouds. I have characterised INP across different locations such as: Mountain Observatory Cimone in Italy; Puy-de-Dôme Observatory in France; Mediterranean Sea (PEACETIME oceanographic cruise); Arctic (one month in Ny-Ålesund station). In recent years, my research interests have included the characterisation of primary marine aerosols and the comprehension of sea to air particles exchanges.
Today, I am pursuing my studies in 'climate-relevant aerosol properties' and in 'marine atmospheric aerosols', through NOTOGRO observatory and its facilities.

略歴
– Master in 'Physics', Alma Mater Studiorum University (Italy), 2011.
– Executive Purchaser at Tracoin Services Ltd. London, United Kingdom, 2012.
– Research Fellow, National Research Council of Italy – Institute of Atmospheric Sciences and Climate (CNR-ISAC), Mar. 2013 – Aug. 2017.
– Research and Development Engineer, French National Centre for Scientific Research – Laboratoire de Météorologie Physique (CNRS-LaMP, UMR 6016), Sep. 2017 – Dec. 2018.
– European Ph.D. in 'Physics', University of Ferrara (Italy), 2018.
– European Ph.D. in 'Meteorology, physical oceanography of the environment', University Clermont Auvergne (France), 2018.