Summer School was held on 21-26 September, 2020.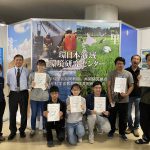 Environmental Research Summer School, Noto Peninsula, Japan
Institute of Nature and Environmental Technology, Kanazawa University
Date      : 21 – 26 September, 2020
Venue : Research sites of the Institute of Nature and Environmental Technology (INET), Kanazawa University, Japan
Download Flyer here.
Outline of summer school schedule
Day 1 (21th Sep, Mon)                
Introduction for the summer school
(AM) Limnology: Research on inland water environment
(PM) Radioactivity and its use in environmental science.
Management of Mining and its effects on the environment
Day 2 (22th Sep, Tue)
(AM) Travel to the Marine Research Laboratory of INET
(PM) Geography and geology of Noto
Day 3 (23th Sep, Wed)     Marine research activity 1: Physical and chemical oceanography
Day 4 (24th Sep) Marine research activity 2: Marine biology
Day 5 (25th Sep, Thu)     
(AM) Sustainable development/social science activity: Introduction to the Meister program
(PM) Atmospheric research lecture
Day 6 (26th Sep, Fri)      
(AM) Original vegetation in Noto
(PM) Examination of marine coast and its economical use along Japan sea.
Return to Kanazawa, Closing
Cost: 15,000JPY
Accommodation in Noto, travel fee to Marine Research Laboratory, and meals there are included.
Admission deadline
31 July 2020
e-mail to: kannihon.ka@gmail.com